This is going to be a post about identifying the beautiful mushroom blewit.
There are two similar species, wood blewit (Clitocybe nuda) and the field blewit (Clitocybe saeva). Both are usually edible but some people experience allergic reactions. For the sake of simplicity, we will not concentrate in the differences between the two types of blewit, but rathet the difference between blewits and poisonous lookalikes.

Blewits appear when the first frosts are just approaching and nights are getting cold. The mushroom have a white/lavender hue. And often the margin of the cap is tinted with blueish lavender color.

Gills: The gills are of same color, a pale lavender. But variations of cream, pale pink and pale brown also possible. The gills are very close together.
Stem and base: They have also an enlarged thick short stem. But importantly, there shouldn't be any sac surrounding the base (volva), typical of amanitas.
Habitat: Usually grow in leaf litter.
Spores: Spore prints are whitish to pale pink.


Lookalikes:

Similar lookalikes, also showing lavender hues, include the deadly
Cortinarius
(which main difference is the cobweb veil, but it might be absent in adult speciments) and spores will be rusty brown, and Entolomas (also should be avoided), which usually have thinner stems and salmon spore prints.
Important
: spores are the best way to distinguish them!
Blewits do not contain a ring. That's another key difference.
Importantly
, inspect for the presence of a ring with rusty brown appearance, that's a warning sign of
Cortinarius
(deadly mushroom).
Also it's good to distinguish them from other
Clitocybe
species.
Identifying with full certainty the blewit is definitively not for beginners.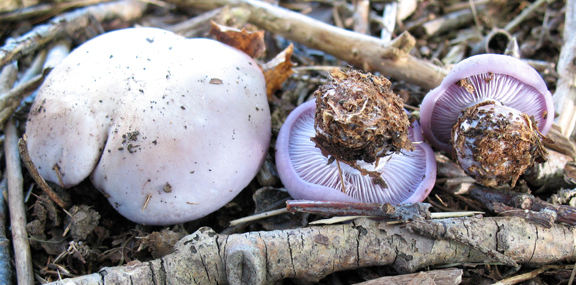 Blewit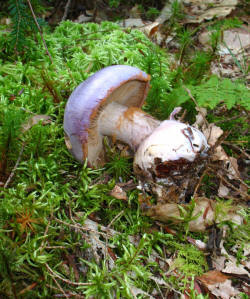 Cortinarius (deadly) is very similar, the base is more enlarged. One warning trait of Cortinarius is the rusty brown ring and edge of the cap (but be aware it might not be present!)
Disclaimer
: this is only intended for educational purposes. Do not eat mushrooms based on the information found here. In general, do not eat mushrooms unless you are 100% sure about its ID.